Tue May 28 '19 Announcement
over 3 years ago – Tue, May 28, 2019 at 04:59:12 PM
Friends,
 
We were holding off until we could properly announce everything all at once -- but here it goes. Details on our Indiegogo Backer Disk Combo-Packs ARE HERE AT LAST!
 
First, and likely most importantly, we're excited to share that your disk-sets will ship IN THE BEGINNING OF JULY!
Yes, this will include all international shipments, and will be about one month before the commercial North American release (August 6th!). We'll send out a reminder email blast the week before packages ship, and give you one last chance to confirm & update your mailing address.
If you need to make a change to your shipping address in the meantime, you can do so by logging-in to your BackerKit survey at ds9doc.backerkit.com.
Disk Details & Bonus Features
As promised, our Indiegogo backer disk sets are made specially by our team for eligible backers and will include cover artwork exclusive to the campaign. The sets are the only region-free release currently planned, and will include one Blu-Ray disk  and one standard DVD in a single combo-case.
 
Earlier today, we partnered with our distributors at Shout! Factory to announce a full list of the special features which will be included on the standard release:
 
"An Intro from Ira & the Gang"
"A Brief History of Deep Space Nine"
"What We Left Out"(over 45 minutes of new stories!)
"Behind the Scenes at the Variety Photoshoot"
"HD Remaster Discussion" (a roundtable chat with the filmmakers)
"More From the Fans" (YOU!)
Theatrical Trailer
 
In addition to the items included on the standard release, our exclusive backer combo-disk sets will include:
 
"A Musical Reunion"(an extended conversation with composers Dennis McCarthy and Kevin Kiner)
Indiegogo Campaign Videos & Video Vault
Technical Trivia Track (A special subtitle text track with detailed technical info and listing of our HD Hero sponsors!)
 
We've been working hard the past few weeks to finalize and pack as many hours of additional content as we can into your combo-sets! Everything our team has specially produced ourselves to date has been included, and we hope you'll enjoy the chance to enjoy the film again and again from the comfort of your home.
For those interested in even more content and collectable opportunities (or for those who did not opt for a disk set during the campaign), our partners at Shout! Factory have announced their own Special Edition Blu-Ray set for which they've produced an extended 50-minute Roundtable Look at the Making of the Documentary: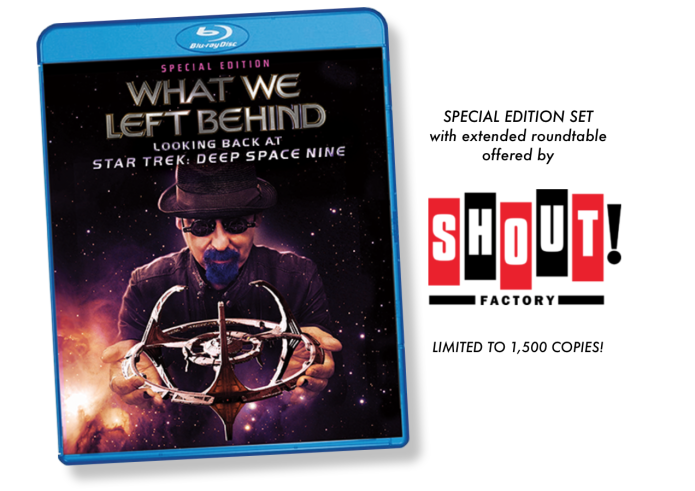 For those curious about the differences, your backer disk sets already include our Musical Reunion bonus feature and a shortened excerpt of Shout's roundtable (in the HD Remaster featurette). However, because the extended full-length roundtable discussion is produced separately by Shout! Factory, it is only available on their limited edition disk.
Only 1,500 of these sets are being released through Shout! Factory, so if you're a die-hard collector or didn't pre-order a disk set during the campaign, we encourage you to pre-order this special edition soon!
Theatrical Screenings in the UK, Ireland & Germany NEXT MONTH
Our screenings in the US & Canada earlier this month were an incredible success -- so much so that our friends at CinEvents have announced a similar one-night-only event throughout the UK, Ireland and Germany next month on Wednesday, June 26th!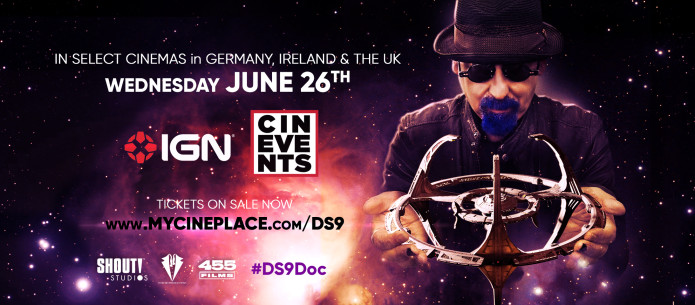 Though many of you may have the chance to enjoy your disk-sets at home soon, there's nothing like seeing the film on the BIG screen with an audience and all new remastered footage. Some cinemas have already sold out, so additional screenings are being added -- get your tickets soon to avoid missing out!!
 
While our film team would love to see the film screen EVERYWHERE, those decisions are made independently by our theatrical partners. If your country isn't on the list, we encourage you to reach out to Fathom Events, CinEvents, Shout! Factory or your local cineplex to encourage them to pick up the #DS9Doc in your area!
We'll have more details soon on our final rewards -- including re-release of the stream, and posters! -- but in the meantime, thank you to everyone for your great reactions to the film. Hearing your excitement and seeing your response has made our team's many, many hours of hard (but loving) work very much worth it.
 
Thanks to you, we're the little-doc-that-could.
Keep trekking on...
- The #DS9Doc Team