Mon Aug 27 '18 Announcement
about 4 years ago – Mon, Aug 27, 2018 at 04:37:28 PM
Dear Niners…
 
You've waited patiently, and as always we're incredibly grateful for your support. We haven't let up at all here on our end -- it's been full steam ahead (er, we mean Warp 9?), and we're pleased to say we've finally locked in some dates this fall for our INDIEGOGO BACKER PREMIERES!
 
But before we even get to that, we have a lot of other EXCITING NEWS in this update too, starting with...
Welcoming composers Dennis McCarthy & Kevin Kiner!
We couldn't be happier to announce the addition of Dennis McCarthy (original Emmy-winning composer of Star Trek: Deep Space Nine) and Kevin Kiner (composer on Star Trek: Enterprise and most recently Netflix's Making a Murderer and Star Wars Rebels) to our team! These two music legends have joined forces once again to create an original soundtrack for the upcoming documentary, and will continue their Star Trek family partnership by scoring our writers room Season 8 animated story break. We simply can't wait for you to hear what they're working on.

A final push for DS9 in HD!
When we started this process, our team was excited by the possibility of remastering even just a few select shots for the first time in High-Definition. Thanks to the partnership of CBS Entertainment and CBS Digital, we've been proud to say we've accomplished that — and the outcome is stunning.
 
But watching it now, the standard definition footage simply pales by comparison, and it reiterates to us that our original goal just isn't enough. We think you'll feel the same, and that you deserve to see ALL of our show clips in the film in glorious HD.
 
Therefore, today we're announcing one final campaign pushing for more DS9 in HD. Ira Steven Behr met up with a special friend to help spread the word and show you what we're talking about:
As supporters, we know you've already gone above and beyond the call at every opportunity. And we want to thank you from the bottom of our hearts. This film in now is the final stages of post-production, and we are committed to having it out to early backers in one form or another this year (case in point: see our news on the Backer Premiere dates below!!). But that won't stop us from getting as much HD into this film as humanly possible!
 
We've read your comments online, and we join your consistent outcry to see Deep Space Nine remastered. If you're one of those committed fans, this is your chance to make a direct difference and see the results in our film!
 
We encourage you to check out our WEBSITE for details on this remastering campaign. You can support at any level to make a difference, but $50 and up will nab you an all-new collectable CHALLENGE COIN, and make you one of our HI-DEF HEROES. Or, for $500, you can become a LEGACY SUPPORTER -- sponsor an actual scene to be remastered for the film and have your name connected with it for all time!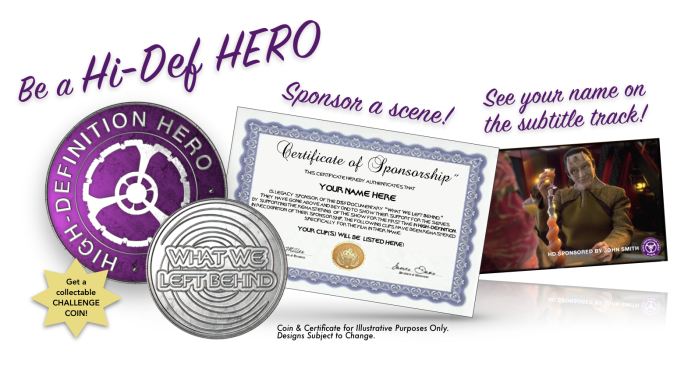 We're in the final stages of the film, so don't wait - if you're serious about more HD, show your support NOW! Join us in bringing DS9 to High Definition!
 
And finally, we're pleased to share that we're closing in on our BACKER PREMIERE EVENTS this fall!
Dates Announced for LA & NYC Premieres
If you're a ticket holder for NY or LA, you should have already received a save-the-date email this past week. For everyone else, we're proud to share that our first early screenings will take place in OCTOBER!
         Los Angeles Backer Premiere
         Friday, October 12th, 2018
         New York City Backer Premiere
         Sunday, October 14th, 2018
We're still finalizing details on our UK premiere, which we'll be announcing in the next week, so keep an eye on your emails!

What does this mean for Blu-Ray and digital streams?
Stay tuned! As promised, these backer premieres are our first advance showing to you — our most dedicated fans. Once the film is completed and screened at our special events, we will be announcing plans for the early online stream and finally the Blu-Ray/DVD bundles.
As always, we've still got a LOT to do! But the end is now clearly in sight and we can't wait to share in the celebration with you.
 
More to come very soon. Until then, keep trekkin' on!
- The #DS9Doc Team