Wed Mar 8 '17 Announcement
over 5 years ago – Wed, Mar 08, 2017 at 05:47:15 PM
Just 54 Hours Left
... in our Indiegogo campaign. Incredibly, we've met ALL official stretch goals, and we're well on our way to creating a worthy (we hope!) tribute to Star Trek: Deep Space Nine.
But how great would it be if we end this campaign on an even stronger note? We KNOW there are many more #DS9 fans out there, so we're challenging YOU to help us reach 10,000 backers and make a statement to the world that NINERS are out there & are actively making their voices heard!
A new contribution at ANY amount counts towards this goal! And don't forget, we've still got our REFERRAL CONTEST going, so keep sharing your personalized referral link and you might have a shot at one of Terry Farrell's original DS9 Cast & Crew Jackets!
Rule #239: Never Be Afraid to Mislabel a Product
We wanted to let you know -- after speaking with Ira Steven Behr about the complete Rules of Acquisition, we've decided on the T-shirt to list ONLY the official rules spoken on screen in the series. As you probably know, there are other rules floating around the internet and from DS9 novels, but as many conflict or are mis-numbered, we've opted to only include ones written or otherwise approved by Ira.
The good news is, this will make them even easier to read on the shirt! The bad news is, for those of you expecting the full 285 (or so) rules, we're not afraid to admit we *may* have mislabeled that product, slightly. Our apologies. But as Quark would say... "A contract is a contract is a contract... but only between Ferengi."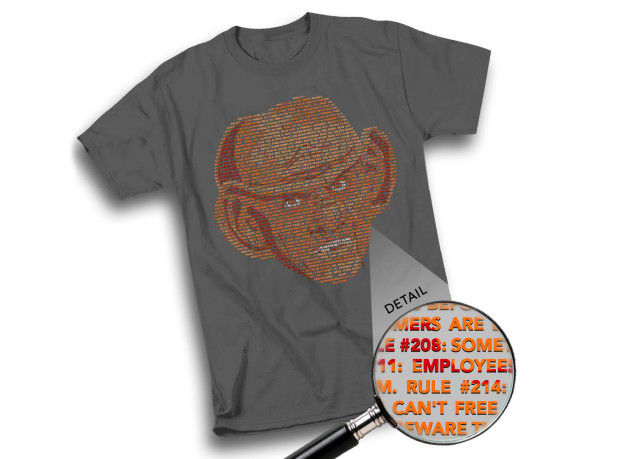 Don't miss your chance to add-on this & other great exclusive merchandise before the campaign ends!
Final Rewards
Many of you are asking if we have any new perks coming in our final days. Those of you who missed out on the Complete DS9 Signed DVD sets previously will be happy to hear that we're releasing a final batch of 25 tomorrow in the early afternoon.
It's possible that we may also have one or two more (small) surprises, but for the most part... that's it, folks! We hope you'll consider grabbing any remaining limited packages (like the STLV bundle and the new LONDON Screening!) before time runs out. And never fear, all additional funding goes straight into the continuing goal of including more HD DS9 content in the final film, so it's still going to great use!
DS9 Daydreams...
And in case you missed it, we just released the second part of our #DS9Daydreams video series. You can watch BOTH here:
We hope you enjoy, and keep making some noise for DS9!
- The #DS9Doc Team